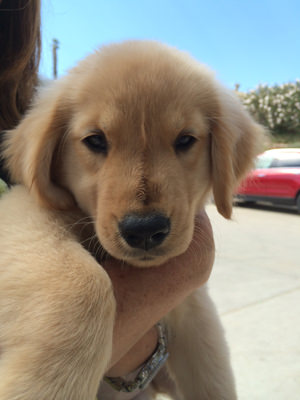 We had plans to go out tomorrow night, but those have been cancelled. We've been binge watching TV lately, but now we're too tired. It's been two days since we got…the puppy!
She's a Golden Retriever.  She's ten weeks old.  She's the definition of cute.  Look her up in the dictionary.
After raising four children and three dogs, we figured adding another canine to our casa was no big deal. Delilah, the puppy, has been introduced to a mother figure, Daisy, our "senior" dog (that's what they call them.) Daisy is eleven, and is by nature extremely mellow. She sleeps at the back door and is often not awakened until the opening of the door itself – rather than the sound of our car, the back gate, or the loud jingling of keys. That's what we call mellow.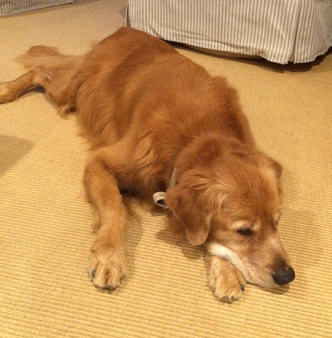 "You guys need to get a puppy!" said our children, none of whom live at home and are currently scooping poop from our backyard. "It'll keep Daisy young!" Yes, but will it improve her hearing?
It's year two of our empty nest, which basically means we're spending a lot of time in our den binge watching a TV series ("Friday Night Lights" is awesome), playing Candy Crush Saga (JoAnn) or doing crossword puzzles (Richard.) So bringing another life into the house certainly seemed like a good idea. This idea really crystalized when our summering daughter, Emily, came home one night to find us at our respective computers. She said "You guys really need to get a life".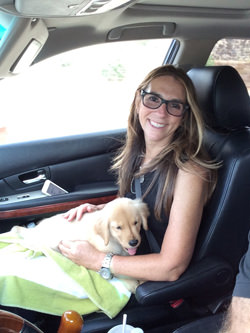 Toward the end of August, before Emily headed back to her academic haven in Atlanta, she and her mom started surreptitiously looking at puppy pictures on the Internet. Warning! Once puppy pictures get into the house, it's almost a sure thing that a real dog will follow.
Emily went back to college. The house became empty. We got the puppy.
Delilah has been with us for two nights. Her first day and night were very promising and uneventful. As I have often said, "Everything a puppy does is cute."
We are crate training her. This means she sleeps in a giant cage (but no one wants to call it that, so we call it a crate) right near Daisy's bed. Daisy has taken well to her new little sister – if you define "taking well" as aloof disengagement, or resignation. In time, we tell ourselves, they will be the best of friends.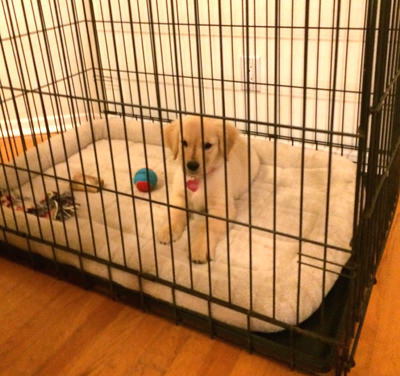 When JoAnn went downstairs this morning to let the puppy out, she was greeted by a total mess. Sometime around 6 AM, Delilah had pooped in her crate. Not so cute. A rare phenomenon (because dogs know better than to poop in their living quarters), and one, I'm sorry to admit, brought on by our desire to push the edge of the poop envelope and sleep "just five minutes more" after the first yelp. That won't be happening again.
Poop everywhere!
I am amazed at how quickly JoAnn and I sprung into action. It was like old times. I immediately grabbed Delilah's soiled bedding and went to work with the hose. JoAnn distracted her while Daisy observed the whirlwind with detached bemusement.
Next came Delilah herself. I think she actually enjoyed her spa-treatment bath as I rinsed her poop-caked and furry little body in the kitchen sink.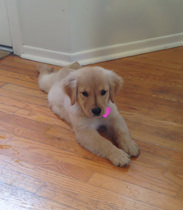 Once the crap-threat level was returned to normal, JoAnn and I gave each other that knowing look. "It's just like having a baby in the house," she said. "Yep," I nodded, and smiled.
There are times in our lives when we know we have to do something that we don't want to do at all. These are the "higher calling" moments, when we as parents, or pet owners, have to step up and take care of business – whether it's cleaning up poop, or drying tears, or just listening –when we'd rather be doing something else, or anything else.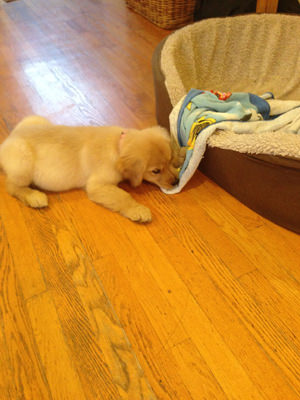 These are also the moments when our love unites us because we're willing to sacrifice our own plans to accommodate the needs of our loved ones. These times bind us together as we navigate our shared adventures. In times like these, JoAnn and I often look at each other and quote Oliver Hardy: "Here's another nice mess you've gotten me into."
I suspect next week's blog will have another messy puppy update — because, frankly, that's about all that's happening around here right now.
https://commonsensedad.com/wp-content/uploads/2019/08/CSD_Logo-1.png
0
0
Common Sense Dad
https://commonsensedad.com/wp-content/uploads/2019/08/CSD_Logo-1.png
Common Sense Dad
2014-09-10 15:39:11
2014-09-10 15:39:11
Parenting the Puppy