Parenting – The Shared Adventure
What happens when two strong individuals come together to raise a child?  Are they able to surrender control?  How do they deal with sharing tasks?  Who gets to be right and who gets to be wrong?  How can they make positive communication a habit and avoid criticizing each other.  Most importantly, how can they make their baby a project that will bring them together rather than drive them apart?
Thinking about this, JoAnn (my wife) and I recounted some of our experiences as new parents. And even though JoAnn has a Masters degree in Education, I found that our mutual common sense had been an additionally important guide.
We thought of the process as a SHARED adventure, and imagined that we had been dropped into the jungle together with machetes, but no compass or map.  From there, we'd decide to chop our way out based on our gut feelings.  If one direction didn't work, we'd reassess and try another knowing that we were making the decisions together and we'd ultimately  find our way out.
First, we had to accept and embrace our rookie status.  As rookies, we could look at each event as a new adventure.  Changing a diaper, cleaning an umbilical cord, putting the baby in and out of the car seat – these were entirely new experiences to be shared, discussed, and dissected in a loving and mutually helpful way.  We were both equally interested in pleasing the other and protecting the baby.  So accepting that a slip of the hand, or an accidental pinch with a buckle was "nobody's fault" made us equally confident.
The early tasks were simple. The baby was either hungry, playing, tired, or asleep.  In the first months there were worrisome little things; rashes, crying, maybe a cold or fever, but generally speaking we saw our job as welcoming the baby into the world and helping to make the baby comfortable.
Around four months, there are actual biological changes occurring in babies that make them increasingly aware of the surrounding world.  Suddenly, they have opinions.  They cry when we leave them alone and they start expressing themselves.  When these control issues arose, JoAnn and I counted on each other for collective intelligence and strength.  It's human nature to want things to go your way, but with babies, you don't really have as much control as you'd like.  In our case, we knew we had a bigger picture.  We wanted to fit our babies into our lives, rather than change our schedules to accommodate them.  We wanted our babies to understand that we were determined, as a team, to do what was best for them – within the framework of our reasonable expectations.  Having a plan allowed us to roll with whatever came our way.
As parents, we were both equally new to the task, and we each brought our own skills.  Once problems popped up, we would discuss them.  If we felt marginalized – we'd bring it up!  If one of us had disengaged, the other would reconnect!  As rookies, how else would we learn?  The shared adventure allowed even the most ridiculous moments to bring us together.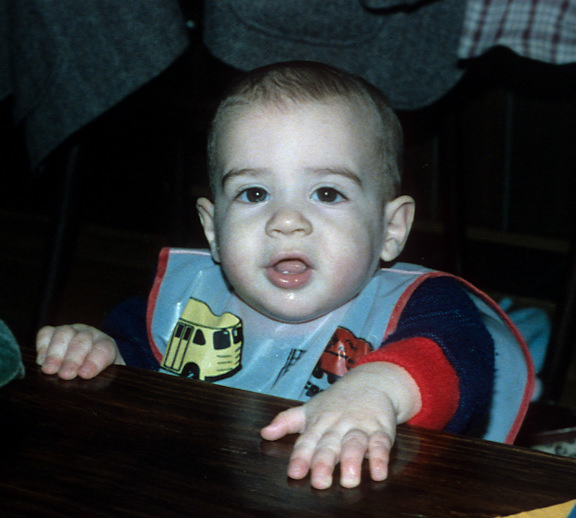 Once, as an infant, Aaron was listless and had a fever.  The doctor gave us some liquid medicine.  Unfortunately, Aaron was determined NOT to take the medicine.  We filled the dropper and, over a period of ten minutes, both JoAnn and I tried approaching him in every possible cute and innovative way.  He would have none of it.  When the dropper would come near, he'd clench his lips and turn his head from side to side.  Although this made a nice purple horizontal line on his cheeks, we were stuck.  How were we going to get this serum into our very willful baby?
We talked about it a bit and, despite Aaron's tears and objection, we knew we had to give him the medicine.  We put him on the floor and, while I held his flailing hands, arms, and legs down, JoAnn locked his head between her knees and forced the dropper between his lips.  Once she squirted the medication into his mouth he froze, stopped crying, and made a "What the heck was that?" face.  We had been pushed to an extreme we had never anticipated.  We had just used  physical strength to overpower our child in order to do what was right.  We stared at each other, emotionally spent.
It wasn't fun. It was a real challenge. But we both knew it was part of our job.  We laugh about it now, but at the time we never thought we'd have to get physical with our children.  We knew we'd done what had to be done.  We'd done it together, and that's what mattered.
As parents and partners, we have to do our best to give up our critical ways.  We have to understand that the process is unpredictable, a set of lessons to be learned. We must never forget that the process has enough flexibility to allow for mistakes. What's really important is learning from those mistakes by sharing them, talking about them, and even laughing about them.
https://commonsensedad.com/wp-content/uploads/2019/08/CSD_Logo-1.png
0
0
Common Sense Dad
https://commonsensedad.com/wp-content/uploads/2019/08/CSD_Logo-1.png
Common Sense Dad
2014-06-18 15:42:38
2014-06-18 15:42:38
Parenting – The Shared Adventure