Sibling Rivalry – Pupdate 3
For a while my days were almost perfect. I could sleep wherever I wanted, wander the house at will and always find food in my bowl. I could daydream for hours while my masters talked or watched that glowing box.  It was peaceful, but there were trade-offs.  I didn't get a lot of attention.  Sure, I got some nice rubs once in a while, but I was given a bath only once a month, the menu never changed, and I rarely went outside the walls of my perfect prison. For the most part, I lived the classic dog's life.
Then "it" happened.
I don't know what they were thinking. Was I too boring? Did they need a challenge? Maybe I ate too loudly. I just don't get it. I thought I was being the perfect dog – and then they brought "it" home.
For years my human sibling, the Long Haired Boy, had been bugging my masters to "get a puppy." He said, "It'll keep Daisy young," and stuff like that. Well, I'm not feeling particularly old. In fact, I've had a pretty good run so far. Hips are in order, eyes are working pretty well, ears have never been that great. So aside from the fact that I poop every four hours, which the vet says is fine, I'm showing very few signs of age.
On the other paw, my two-legged owners have changed quite a bit. The little one who smelled the best moved out over a year ago, and the Hairy Guy has been home quite a bit (but he's not taking me on any walks or anything.) The Pretty Lady with brown eyes (like mine) still brings me my crack crackers, but she's not taking me on walks either. Basically, we've been pretty lazy around here for the last year or so.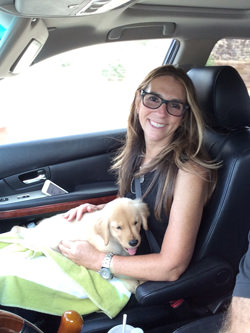 On the whole, hanging with the Lovebirds was fine with me – until they brought home the little idiot they call Delilah.
For the first few days, I wanted nothing to do with the intruder, but my humans were obsessed with her. "Blah blah blah blah Puppy. Blah blah blah blah Delilah." They were giving me that "extra nice" treatment… but it's kind of crazy watching them get so excited about the little ball of fur that doesn't know anything except how to jump up into my face and try to bite my jinglers. Can I just get five minutes?
That puppy doesn't know anything. She breaks all the rules. She pees in her bed, she chews on the chairs, she grabs paper towels. Worst of all, the minute she sees me she comes flying in my direction and tries to bite my ears.. Lately the little bitch (literally) has been showing me up. My human says "Sit" and she sits. What a tool.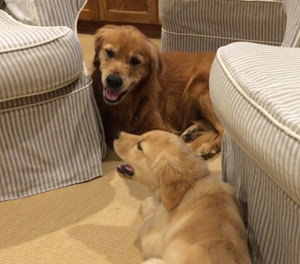 After a few days of total puppy avoidance, my Masters forced us to get together. They held The Energizer still and let me give her a good sniffing. Not too bad. Puppy smell; simple, clean, new, and a little vulnerable. The two-legged ones forced us to get to know each other and then we started playing. A few well-timed bites, a big growl or two, and now little D knows how it's gonna work around here.
Sure, I let her lay in my bed. I let her bite my leg. I let her try to steal my snacks and my masters are really grateful for that.  The puppy's so enthusiastic I have to cut her some slack. I've got the energy. We're both taking vitamins now. I'm even getting brushed once in a while.  All in all, I think this might be a gain.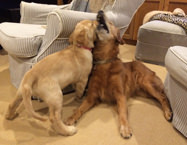 More good news! Suddenly everybody is paying attention to us dogs, and even though they're mostly petting the fluffy younger one, they're being pretty darned nice to me too. HE actually gave me a bath, which HE hasn't done in about ten years. I get a ton of treats. I'm sore from the regular walks and that stupid puppy is actually getting me into shape.
I'm also getting a lot more personal attention. It's like my two-leggeds don't mind having me around any more. They see that The Energizer will do anything I do, so they're counting on good ol' me to set an example of how to behave. This older sibling thing could really score me some points.
Today they rode in the Windy Box to the Land of No Leashes. Every once in a while the Masters are kind enough to take Delilah there so that I can get some rest. In those lovely, quiet moments, I can lie anywhere I want and not have to worry about being jumped. It's kind of funny though. I actually miss that little puppy when she's gone.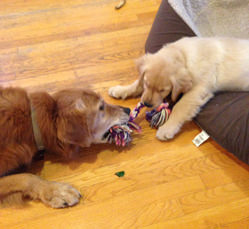 At first I thought this growing family thing was going to be a bummer, but I was wrong. It's good to have a new friend.
Gotta go now, the puppy's getting in trouble and I like to watch.
https://commonsensedad.com/wp-content/uploads/2019/08/CSD_Logo-1.png
0
0
Common Sense Dad
https://commonsensedad.com/wp-content/uploads/2019/08/CSD_Logo-1.png
Common Sense Dad
2014-10-16 18:55:23
2014-10-16 18:55:23
Sibling Rivalry – Pupdate 3