Parenting the Puppy – Pupdate #2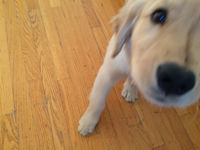 This puppy thing is a lot of work.  Just as with our children, we console ourselves by saying, "If we put the work in now, we'll have less to do later." But that doesn't diminish the magnitude of the required dedication at all.
Our friend Bruce summed it up when he said, "Puppies just don't know any of the rules." So, unlike Daisy, our tried and true eleven-year-old Golden, the puppy thinks everything is her business – the open dishwasher, my tool bag, any open drawer, and my underwear (which can still be found too often on the floor.)
We think Delilah is brilliant. By watching Daisy, she's figured out the doggy door. She's pretty much got the whole potty thing under control, and she has outsmarted our attempts to blockade her passage into other parts of the house. She's wearing us down, fighting the war of attrition. Little does she know that we are united in our determination to teach her the rules and get our relationship off on the right paw.
As for the fetching….I remain concerned. I find that she loses interest in the ball after about four or five tosses. Up until a little while ago, we thought she was sixteen weeks old. That's a point when she should be able to concentrate a bit. But today when we took the calendar off the wall, we determined that she's only fourteen weeks old. That will allow me to cut her some ball-concentration slack for another couple of weeks. The Perfect Fetch will have to wait.
My big concern is that Daisy, a non-fetcher, has somehow propagandized her. "Is that all you want to do with your life…just chase that smelly ball for The Man?" Delilah seems to be thinking it over.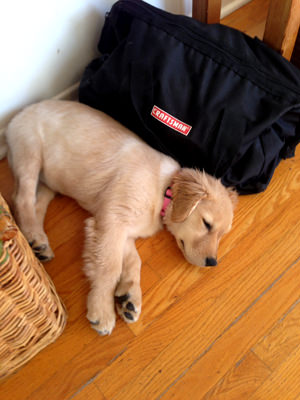 This age miscalculation is a classic. We've been treating Delilah as though she should be farther along, and suddenly we find out that we are wrong. We had started some real training, we had eliminated her lunch, and we had serious bladder-holding expectations. On one hand, we're relieved – she still seemed hungry at lunch time, she was a little "spacey" during the training sessions, and her bladder could have used the break. On the other hand, we just figured, "Man, are we boneheads!"
Having raised four kids, this is not the first time we made a fundamental error, and it probably won't be the last. The important thing is that we're not wasting time, energy, or emotion investigating the error and assigning blame. We're just laughing it off and moving the enterprise forward – kind of similar to the time I accidentally locked our son in the car on a sweltering day.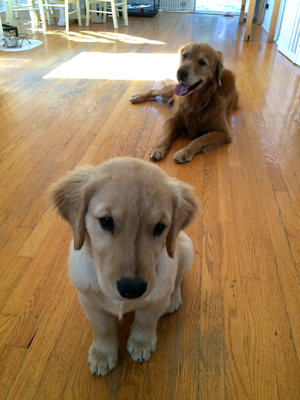 JoAnn's internet adventures have migrated from shopping, "Candy Crush" or "Words with Friends" to "Doggy Discussions." As a result, much of our discretionary conversation is devoted to things like "boundaries," "meal time," "doggy play," and "socialization." Some of the suggestions on these sites make sense – in which case we adopt them – and some seem a little overboard for us. We are not willing to enter the psychological arena with our dogs. From my point of view, they live in a binary world. Good is good and bad is bad, with no interpretation of feelings with regard to their behaviour. This keeps it simple for both me and them.
There has been a funny evolution in the friendship between Daisy and Delilah. When they are together, Delilah is often telling Daisy that she wants to play. She does this by jumping on Daisy, biting her ears, pulling her tail, and generally hassling the crap out of her. As a measure of her true brilliance, Daisy has chosen to remain upstairs, sometimes hidden in JoAnn's closet, until very late in the morning. She's no fool.
Meanwhile, JoAnn or I head downstairs before 7a.m. to let Delilah out of her crate and take advantage of the "alone time" to do some training. Sometimes, we'll choose to take Delilah for a walk and she'll whimper almost the whole time because she's wondering where her walking mentor might be. The same goes for piling her in the car and going for an adventure (to Starbucks). She just keeps looking for Daisy.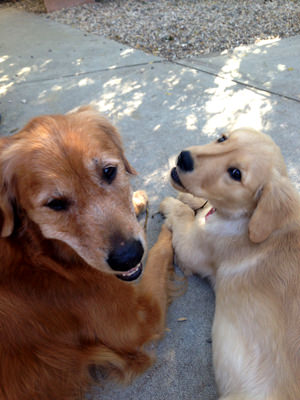 We think Delilah likes Daisy more than Daisy likes Delilah. But we are highly entertained, and even proud (which we find hysterical) when they play together like loving siblings. Every once in a while we achieve the perfect balance. Either the dogs play lovingly with each other or they lie in their respective corners of the kitchen. When these moments hit, we revel in our satisfaction and forget the fact that we are both "dog" tired.
Yes, we have hope for a peaceful, fetch-filled future.
Next up: Daisy weighs in.
https://commonsensedad.com/wp-content/uploads/2019/08/CSD_Logo-1.png
0
0
Common Sense Dad
https://commonsensedad.com/wp-content/uploads/2019/08/CSD_Logo-1.png
Common Sense Dad
2014-10-08 02:01:49
2014-10-08 02:01:49
Parenting the Puppy – Pupdate #2