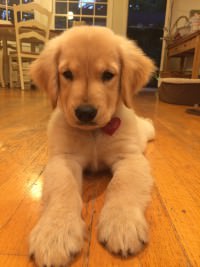 A lot can happen in a week.   Although the puppy has had her share of "accidents," all in all she's doing a very good job of being a puppy; chewing on things, fighting imaginary foes, running in circles – all the regular stuff.
JoAnn's teaching roots have found new ground. Both dogs, Daisy and Delilah, are now getting a daily vitamin. After seeing me give them their vitamins, JoAnn declared, "From now on, your job will be to give them their vitamins." I couldn't have been more honored. Now I get to be the light monitor and the vitamin giver!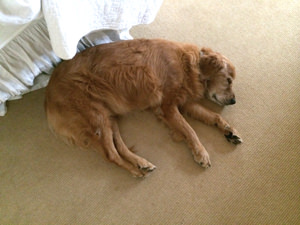 Our next step was to create a routine – just like we'd done with each newborn. One of us gets up with the puppy and takes the puppy out for her morning bathroom break. Daisy, our older and wiser dog, has chosen to maintain her prior schedule. She stays in the bedroom (currently off limits to the puppy) and "sleeps in" until the last adult goes downstairs.

The beauty of Daisy's choice is that it gives the early parent an opportunity for some one-on-one training time with Delilah. The puppy is especially rambunctious in the morning, so I think Daisy's decision is more deliberate than we might imagine. In any case, solo time with Delilah offers us an excellent opportunity to help her hone her retrieving skills. That's something Daisy never quite mastered, and believe me I tried.
Daisy is reliable; she knows the boundaries, she doesn't run when the gate is open, she doesn't eat from the table, and she doesn't jump on guests. She'll even chase a thrown ball…and then lose interest. I get it, but she's a retriever for goodness sake!
Our first Golden, Sunny, was ball crazy. She was so desperate for the ball that she'd go into the ocean to get it. I used her instinct to chase as an opportunity to teach her to "stay," which she did with remarkable discipline. We could take her to UCLA and leave her outside of class. She would not move, even if people tried to coax her, until she saw me come out the door. I hope to teach Delilah the same level of self-discipline.

We also achieved doggy détente between our two pets last week. Daisy had been very skeptical about Delilah. All Daisy knew was that a rambunctious, sharp toothed, little nuisance was jumping on her all the time, and all she wanted to do about that was fly the coop. Yet Daisy was very patient and non-proprietary. Delilah used Daisy's bed as if it were her own, even pee-ed in it a couple of times, but stoic Daisy took it in stride.
Last Wednesday night, JoAnn and I were relaxing on the kitchen floor. She was petting Daisy and I was playing with the puppy. In an attempt to bring peace, I held the puppy's collar and we brought Daisy over to check her out, without allowing her lunge at our Grande Damme. It took a while, but I think we loved them both into liking each other.
Daisy's life has really improved. She's getting regular walks, she's getting that wonderful vitamin, she's gets a treat whenever Delilah does – so what's she got to complain about?
There was some doggie horseplay – which JoAnn thought was too rough and which I thought was awesome, and they have been friendly with each other ever since. I think Daisy needed to establish her Alpha status and Delilah realized that Daisy could be fun if she approached her in the right way – a fairly basic lesson from the animal kingdom.
So, our schedule is intact. Feed 'em, walk 'em, and let them nap. We do this in rotation, just like we did with our newborns, which gives us the ability to make plans in quiet times. It seems to be working for both dogs and things are pretty calm. Delilah is sleeping about eight hours at night, and that's great. She's had a couple of urinary accidents in the house, but she hasn't dropped any bombs… so far. As JoAnn says "We've got to stay on it, it's our duty to put her outside when we think she's going to have to pee or poop." I have a hard enough time doing that for myself.
"She is such a puppy.  Everything is her business"
It's a good thing we both work at home.
Next installment: Clicker Training. I don't really get it, but it's supposed to work.
https://commonsensedad.com/wp-content/uploads/2014/09/img_0032-e1411228817763.jpg
267
200
Common Sense Dad
https://commonsensedad.com/wp-content/uploads/2019/08/CSD_Logo-1.png
Common Sense Dad
2014-09-20 22:54:37
2014-09-20 22:54:37
PUPdate #1