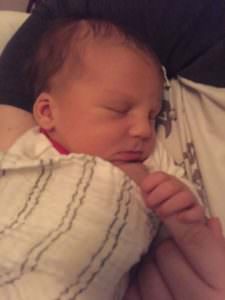 Well. It happened. We became grandparents at the end of December.
Of course, nothing went according to plan. We were expecting this grandson after The Holidays – in early January – right about now. We were mentally preparing to attend a series of parties, eat without concern, and then buckle down into the New Year with excitement and anticipation for a wonderful new addition to our family.
As is often the case with parenting however… things rarely happen the way one expects.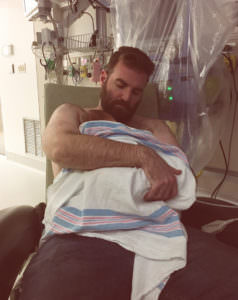 The birth wasn't easy. August "Gus" Greenberg's arrival required an emergency C-section, and a number of days in the NICU (Neonatal Intensive Care Unit), which one familiarly pronounces "nick-you." This, of course, led to much angst for all concerned – but in the end our tough-as-nails daughter-in-law and our 8lb. 6oz. grandson are as hearty as we all expected and have been healthy and home for over a week now.
Throughout that time, we got to watch our son and his beloved wife perform as the perfect team. He had her back every step of the way and she was his #1 concern. Proof of this was the fact that he put his 6'3" frame on a cot in her room every night!
Once all of that initial concern began to fade I immediately went into a period of age-related navel gazing. I wasn't the "parent" on the official documents. The new family wasn't "mine" anymore. It became very apparent that the next generation was stepping up and I wasn't in the middle of the action anymore. I had just been moved one table farther away from the dance floor. Grandparenting.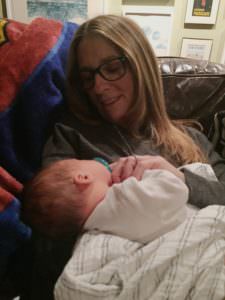 My lovely and patient wife JoAnn doesn't seem to be as bothered by the age stuff. She's on another planet – elevated there by the rapture she feels for this new baby boy. Although we vowed not to be too vocal, she's being very generous with her experience and I believe our daughter-in-law appreciates it… at least I hope she does.
Times have changed, and frankly, it's a miracle we survived our childhoods. Years ago I offered to lend the crib in our attic to a friend of mine who was becoming a father. When I came home, my wife put the kibosh on that plan. "Are you kidding?" she said, "We raised our kids in that crib!!" It turns out that our grandson will not be sleeping in that crib either. Apparently the slats are an unsafe distance from each other and like I said, it's a miracle our kids (or any of us) survived our childhoods. Gus will have pre-warmed wipes, a sock that communicates his vitals by cellphone, and a car seat that looks like it was designed for the space shuttle.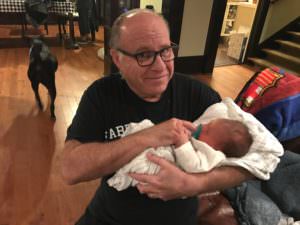 Our friends say that being Grandparents is the most wonderful thing in the world – and I believe them. I've held my lanky little blob of a grandson and stared into his calm and fresh face. I can't wait until he offers up more than gas.
Meanwhile, there's still been no decision on what he's going to call us. Am I going to be Slick, Boompa, or just plain Grandpa? Is JoAnn going to be GiGi (Gardening Grandma), Grammy Jo, or something we haven't even considered? Only time will tell – and ultimately we'll be whatever works best for Mr. Gus.
In the bigger picture, Gus is a new bud developing on the Ben and Kelsie branch of our family tree. He has three uncles and an aunt, all of whom are going to help him to grow healthy and strong. He has an enormous fan club in St. Louis including his grandparents and great-grandparents. He is blessed in so many ways.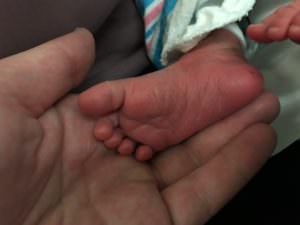 Despite all this musing about getting older I have to say that this natural order of things is quite reassuring. As we travel from generation to generation this inevitable tide of reproduction and renewal is cause for hope and happiness. Sure, we screw up all the time, but in the end, the power of life itself seems to prevail. We are all truly blessed to be here right now.
By the way – have I told you that Gus is a genius?
https://commonsensedad.com/wp-content/uploads/2019/09/IMG_1554-e1569544212651.jpeg
333
250
Richard Greenberg
https://commonsensedad.com/wp-content/uploads/2019/08/CSD_Logo-1.png
Richard Greenberg
2017-01-06 06:01:12
2019-09-27 00:30:55
Grandparenting