June has been an excellent month.

First, our daughter Emily was admitted to Emory University, her first choice.  She got the news not by email or snail, but by phone from an actual human. Southern hospitality!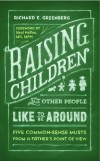 Next, I've approved the publication draft of my book Raising Children That Other People Like to be Around:  Five Common-Sense Musts From a Father's Point of View.  Now the cover art can be completed and I'll have physical copies of the book very soon.  I've posted the just-completed cover here to showcase the talent of my wonderful artist, Cynthia Jacquette.
In the meantime I'll be using this site to share insights from the book and to address the pleasures and pains of parenting.  So please stay tuned and for candid thoughts and updates please follow me as commonsensedad on Twitter.
https://commonsensedad.com/wp-content/uploads/2019/08/CSD_Logo-1.png
0
0
Common Sense Dad
https://commonsensedad.com/wp-content/uploads/2019/08/CSD_Logo-1.png
Common Sense Dad
2013-06-17 19:20:54
2015-05-01 02:30:55
So Far So Good